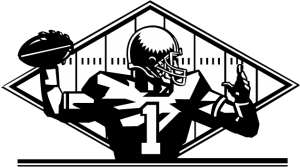 In the never ending quest to define, explain and sell competitive intelligence, we sometimes resort to analogy. When the analogy is a familiar one, maybe our listeners will grasp that key fact that we have thus far struggled to express.
One example that we often use is armed conflict between nations. Wars are the ultimate human competition because the stakes are so high for many people. The problem with using it as analogy for business competitive intelligence is that the rules are clearly different. Ethics in business and war are not the same. Nations may justify actions during war time that an anathema to peace time life.
Another example that we can use is sports. The attractiveness of the sports analogy is that a "lifetime" is played out in plain view each season. All teams start with similar resources and the same record. Pitted against each other in a series of contests, the stronger teams emerge to contend for the title. There, superior systems collide to determine which will prevail. Nice and neat. Then it happens all over again.
Of course, business contests are not all that neat. Plus they usually occur with multiple, simultaneous competitors. The beginning and endings are not so clear cut. And, it is entirely possible that there will be more than one winner.
Okay, despite the caveats, there are good and bad lessons to be learned from American professional football.
The most successful team from the last ten years has been the New England Patriots coached by Bill Belichick. They have won three championships and regularly compete at the highest levels. Belichick's reputation is that he meticulously and effectively prepares his team for each game. Players are aware of their roles and how to attack the opposing team. Knowing and exploiting every possible weakness of his opponents is a trademark of the Patriots.
Interestingly, it seems that this drive to know everything about competitors is what led to an apparent ethical lapse. In 2007, the Patriots (in violation of league rules) taped the sidelines of an opponent for the purpose of deciphering hand signals used to communicate with players on the field. Maybe they had been doing this in other games and for a long period of time (suspicions)? Many began to question how the spying affected the previous championships. Should they be considered tainted?
This is a cautionary tale about the ethics of competitive intelligence that does apply to business.
Where did Belichick's drive come from? Did it arise first from proper and healthy impulses?
Actually, it did. Bill Belichick's father, Steve, wrote one of the seminal books on football scouting methods. When scouting was done in a haphazard and spotty fashion, Steve pioneered the methodical use of scouting (i.e., competitive intelligence) to gain advantages over opponents. While scouting for the Naval Academy football team, he wrote "Football Scouting Methods" which contains a wealth of philosophy and practical methods for understanding competitors.
My favorite quote from the book describes his view of scouting.
"The objective of [football] scouting has been, and still is, to get as much useful information about a future opponent as possible. A more practical objective, however, seems to be to get as much usable information as can be utilized either (1) to help formulate game plans, or (2) better prepare various individual players to either combat the strength, or take advantage of the weakness of an individual or opposing team."
To warm the hearts of competitive intelligence professionals, his first chapter is entitled "A Case for Specialization in Scouting." This chapter reads like manifesto for (football) competitive intelligence. With little modification it works just as well for business competitive intelligence. Here are a few quotes from that chapter.
"Regardless of whether the accent is on scouting, the use of movies, or a combination of the two methods, it is generally agreed that advance information of an opponent is important and necessary."
"It does seem strange that some head coaches feel that any coach, regardless of experience, can scout a football game"
"The argument for specialization get a further boost from the scouts themselves, as most scouts agree that they do get more proficient as the season progresses, regardless of whether they scout the same team for several weeks or a different team each week."
"Basically, every football team has a pattern."
Steve Belichick's book was published in 1962. My "ah ha" realization is that competitive intelligence principles can be learned from non-business arenas. Bill Belichick obviously absorbed many lessons from his father. He just took them one step too far.