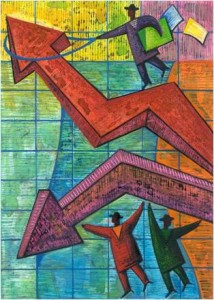 Without a doubt, there have been two dominant strategic business themes in the last eighteen months. First, wherever and however possible, reduce costs. Companies have rushed to reduce staffs, shutter factories and delay R&D spending. Conserving cash during the recent credit crises has been a paramount concern. The second major theme (which is gaining steam) is to grow revenue and profit. The tension between the two themes is apparent. Often growth requires some kind of incremental (or, at least, reallocated) investment.
Although competitive intelligence might help with cost saving decisions, its better use is to support strategic growth decisions. After all, strategy is forward-looking, intimately concerned with competitiveness and inseparable from significant risk/reward decisions.
It is easy to find books on growth strategy -many more, in fact, than for competitive intelligence. However, this disparity in academic or executive treatment does not obviate or lessen the need for competitive intelligence. Indeed, strategy books are replete with references to the role of competitive intelligence in strategic decision-makings.
Take an example from Chris Zook's series of books on growth strategy. In three books – Profit from the Core, Beyond the Core and Unstoppable – Zook synthesizes ten principles of core growth and redefinition.
Start by Defining the Core
Obsess on the Full Potential of the Core
Fully Value Leadership Economics
Map Out Adjacencies to the Core
Recognize the Power of Repeatability in the Core
When Lost, Return to the Core Customer
Remember the Focus-Expand-Redefine Cycle of Growth
Exploit the Power of Hidden Assets
Think of Capabilities as the Building Blocks of Renewal
Don't Underestimate the Power of Focus
Read the rest of this entry