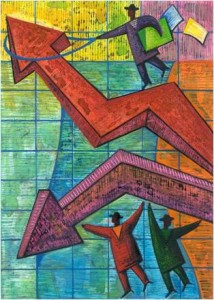 Without a doubt, there have been two dominant strategic business themes in the last eighteen months. First, wherever and however possible, reduce costs. Companies have rushed to reduce staffs, shutter factories and delay R&D spending. Conserving cash during the recent credit crises has been a paramount concern. The second major theme (which is gaining steam) is to grow revenue and profit. The tension between the two themes is apparent. Often growth requires some kind of incremental (or, at least, reallocated) investment.
Although competitive intelligence might help with cost saving decisions, its better use is to support strategic growth decisions. After all, strategy is forward-looking, intimately concerned with competitiveness and inseparable from significant risk/reward decisions.
It is easy to find books on growth strategy -many more, in fact, than for competitive intelligence. However, this disparity in academic or executive treatment does not obviate or lessen the need for competitive intelligence. Indeed, strategy books are replete with references to the role of competitive intelligence in strategic decision-makings.
Take an example from Chris Zook's series of books on growth strategy. In three books – Profit from the Core, Beyond the Core and Unstoppable – Zook synthesizes ten principles of core growth and redefinition.
Start by Defining the Core
Obsess on the Full Potential of the Core
Fully Value Leadership Economics
Map Out Adjacencies to the Core
Recognize the Power of Repeatability in the Core
When Lost, Return to the Core Customer
Remember the Focus-Expand-Redefine Cycle of Growth
Exploit the Power of Hidden Assets
Think of Capabilities as the Building Blocks of Renewal
Don't Underestimate the Power of Focus
Clearly, some of his principles have an inward focus. For instance, defining the core is self-examination of what a company fundamentally does best. Note that Zook expands the notion of core competencies to include the basis for strategic differentiation, the sustainable economic model and the boundaries of the core.
However, most of the principles include (at least implicitly) a requirement to understand the competitive environment. For example, understanding the full potential of the core requires an assessment of the commercial prospects of the core business. This is impossible in isolation. Thus, competitive intelligence can contribute essential understanding of the competitive environment to scope the opportunity. This is more than a total available market calculation since it includes an overlay of other forces that affect potential success.
In almost every principle, understanding the competitive environment adds confidence to the strategic decisions made by management.
How does a competitive intelligence person or group contribute this value? Here are three important steps.
Relationships. There is no substitute for knowing the strategy decision-makers and being trusted by them. If either of these conditions is not true, stop reading and start working to remedy the problem.
Context. Make sure that you understand the same strategic context as management. Services offered in the shared context are valued. Similarly, brilliant but unlinked analysis is not tolerated by busy managers. It wastes their time and damages your credibility.
Models. Competitive intelligence professionals have a rich set of models that aid in understanding the competitive environment. Study and apply the tools described in the Bensoussan and Fleischer books. Whenever you can bring clarity and insight to the decision-maker, your input will be valued.
When there is not a formal competitive intelligence input for strategy, it means that the decision-makers are doing competitive intelligence informally. It is possible that they are doing a great job. In my experience, it more likely means that they are missing valuable insights. Competitive intelligence, well practiced, can be incredibly helpful to them.
What do you think?