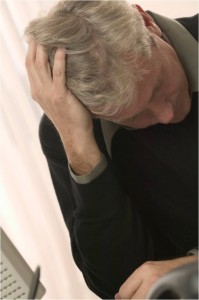 Bob was feeling the stress. After working late every night for the last two weeks, he was in early this morning. The quiet time for reflection he had hoped for was nowhere to be found as he found himself buried in email, presentation preparation and meetings. As if navigating all of the administrative details was not enough, his product line was not doing very well. And people were noticing. Bob's boss had scheduled a meeting next week to hear the story of what Bob was going to do about it. Normally Bob welcomed such meetings because he prided himself in being prepared. This time, though, he didn't know what he was going to say. His competitors really had him reeling.
Knock, knock.
Bob looked up to see Alice at his door. The immediate feeling was irritation. He still had 75 emails to get through before his next meeting! Then he remembered that he had asked for this meeting. Alice was heading up the new Competitive Intelligence team. Maybe she could help him. Maybe she had some clever competition slide he could use with his boss.
"Come in, Alice."
"Good morning, Bob. How are things going?" Alice asked cheerfully.
Trying to manage a friendly smile but not succeeding, Bob said "Well, not so well if you're asking about work. I am swamped."
Alice nodded, "Yes, I've heard that your team was under some pressure. But you have been successful for such a long time. I'm sure that you will find solutions. How can I be of service?"
This was painful for Bob. He had been the "hard charger" for so long. Usually he was the one offering help to others.  He looked at Alice for a long moment and then asked, "I heard that you formed some kind of competitive intelligence group. What exactly is that?"
Alice had begun to hear this question more and more as news of the new group got around the organization. People were equally curious and wary. She said, "Bob, you know what it is like when you are trying to decide what to do next with your product line to beat out competitors? My group works with you to understand what they are up to so that your strategic product decisions can be improved. Of course, the bottom line is that we want you and your team to be successful."
Great, just great, thought Bob. More useless corporate overhead. Next thing you know, there will be some slogan like "beating the competition is everyone's job" that he would have to post in each conference room.  "How can you make decisions about my product line? You don't have the years of experience that the most junior member of my team has?" challenged Bob.
Bob was watching Alice. Those that worked with him often knew the look that he was giving. They called it "the test." Most people did not emerge unscathed from the experience. Intense, occasionally withering comments were a part of what Bob did to measure the confidence and character of his listener. It was Alice's turn now.
Surprisingly, this didn't seem to bother Alice. "Bob, you're right! We don't know your product line like your team does. We focus on the competitive environment and give you information that you can use to make better strategic decisions. Is this of any interest to you?"
Bob softened slightly. Most of the time he asked the questions! Alice had thrown him off momentarily. Recovering, he said, "I suppose it could be though I am skeptical. We already know everything important about our competitors. I could practically write their product datasheets from memory. Plus, we regularly get customer feedback telling us how we compare to their products. I just don't see what you can add."
Alice was looking at him now. Strangely, he felt a sense of "the test." She seemed calm as she asked, "Bob, why is their market share increasing?"
Reasons flashed through his mind in an instant. His costs were too high, key staff was leaving, new competitors were courting his established customers, technology innovations were being fielded first elsewhere and so on. Everyone was moving faster and executing better than he was. Alice kept looking at him as he reviewed all of the reasons that he was planning to give to his boss next week. Then, for the first time, it hit him. He simply didn't know. He had reasons of course but he knew that they would be perceived as excuses. What were the underlying factors that were helping them and hurting him? More importantly, how could he change the balance back to his favor? Important unanswered questions that could no longer wait.
"Alice, do you think that you could help me understand better what our competitors are doing? I mean, why is that they are doing better now after we had led the market for so long?"
Alice said, "Yes, Bob, we can help. My sense is that we need to get started right away. Can we meet later this afternoon and plan what we are going to do?"
Bob glanced down at his calendar and the solid schedule of meetings. For the first time in a while, he felt like that he was regaining his nerve. Alice's simple question had completely reoriented his thinking and awakened his sense that there was a fight that could be won. The other meetings could wait.
This time the smile was genuine. "Can you come back at 4 PM today?" asked Bob.