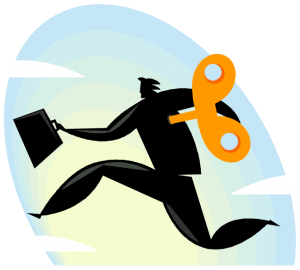 Alice heard Bob before she saw him. Talking rapidly on the phone and carrying a set of PowerPoint slides, Bob came bursting around the corner toward his office where Alice had been waiting patiently. With the barest nod of his head, he passed Alice and continued his phone conversation as he sat down at his desk. Something appeared to be up.
Alice was miffed. Bob was 15 minutes late to a meeting that he had asked for earlier in the day. Ostensibly they were going to discuss his upcoming meeting with his boss where Bob had to explain how to recover from various competitive attacks. Now that he had shown up, he was distracted by what appeared to be an emergency.
Alice had to admit that he seemed different from earlier that day. The tentativeness was gone and the energy that most associated with Bob was evident. She could understand why he was successful with his product line for so long. He was decisive, passionate and hard working. She waited from him to finish his call.
Bob finally hung up the phone and looked at her. "Come in, Alice," he said.
"Sounds like you had an emergency today, Bob," ventured Alice.
"You might say that," replied Bob. "Do you know about the conference coming up in a couple of weeks? Well, we had some plans to make a splash there by announcing a new product. Guess who just preempted up."
"I suppose it would be one of our competitors," Alice answered.
"Yes, and not just any competitor. It's those guys over at Advanced Products. They seem to delight in sticking it to us. This isn't the first time that they have pulled a stunt like this. Seems like they are determined to keep the press focus off of us," Bob said with a hint of anger.
"May I ask you a question?" asked Alice. Without waiting for an answer she continued. "You say that this is not the first time that Advanced Products has done this. What would you have done if you knew a month ago that this was coming? Would anything have changed in your plans?"
"That's more than one question, Alice," Bob said. "But, yes, we would have done something different. The only problem is that as far as I know it is impossible to tell the future. Sometimes you just have to learn to react quickly when something like this happens."
"No doubt that responding quickly is important, Bob. You and your team are good at this," said Alice.
Bob looked at Alice and sensed that she was making a point. "Alice, why does that observation not seem like a compliment to me?"
Alice replied, "Bob, Advanced Products has disrupted your plans for the conference and it is no accident of timing. Furthermore, with high confidence, you could have known about this 3 months ago." She paused to let this sink in for Bob.
Alice continued, "They have done this three times in the past two years. Plus, as you know, Greg Simpson has taken over their product line and you know how aggressive he runs a business." Greg had come from another competitor to Advanced Products and was well known throughout the industry. "There's more. They have been ramping up their marketing communications in the past year. There also has been a noticeable increase in press contacts and a change in the tone of the content. Their executives have been regularly courting analysts more than ever. This is just the tip of the iceberg."
"How do you know all of this?" asked Bob. "We know about Greg, of course, but no one on my team has said anything about your other points."
"It is possible that you and your team have been focused mostly on products, Bob," Alice said. "And emergencies." Bob cringed at the gentle dig she delivered.
"My team looks at more things. In competitive intelligence, we try to see the whole of the competitive environment including the strategies of competitors. That's why we might notice signals that you miss," offered Alice.
"You've made a good point, Alice," Bob conceded, "but I don't see how you have certainty about predicting the future."
"Certainty, no. High confidence, yes. The reason is that all of our competitors, including Advanced Products, are slaves to patterns, capabilities and people," Alice said.
"You better explain that to me, Alice," replied Bob.
"Okay. Every company has patterns of behavior driven by their culture and processes. Their patterns are necessary to enable a company to thrive in business. Without patterns, a company does not have a coherent, repeatable way to be successful. Does this make sense?" Alice asked.
"I think so. You are saying that patterns are a bit like habits but more powerful?" Bob said.
"Yes. If you know a competitor's patterns then you can project their next actions better. Also, you can eliminate certain actions that are clearly incompatible with who they are. Capabilities, on the other hand, determine the range of things that they can do. For instance, specific product knowledge, market position, financial state and more are capabilities that similarly enable and limit a company. Finally, specific leaders give an organization a bias for certain types of decision making. Greg is a great example because we already know that he prefers an aggressive posture toward decisions."
"Alright, I am catching the drift. Just for fun, play all of that out for this latest crisis. How could I have known three months ago what Greg and Advanced Product were up to?" Bob asked.
Alice began, "Let's establish the context first. Advanced Products is behind us in the market but they are gaining fast. They are attacking us at the low end of the market that usually does not get the attention of our existing customers. Moreover, other competitors are following a similar strategy and our overall market share is in trouble."
"Don't remind me," said Bob as he remembered that he was due to explain all of this to his boss next week. Alice waited for a moment and then continued.
"We know from Advanced Products earnings calls with analysts, their executive presentations and their recent influx of new managers that they are determined to grow the company. We also know that coming from a small share, they are concerned about the market awareness and respectability of their company. Those things are critical for our industry. As you said yourself, they have already established a pattern of disruptive announcements. Now, why would we have guessed that another disruptive announcement would have come before the upcoming conference?" ask Alice.
"You have my full attention," said Bob.
"Simple, because just as Advanced Products has patterns, capabilities and people, so do we. And they know it," she said. "If my memory is right, don't you usually introduce the latest product line addition at this conference each year? And, don't you count on the press momentum to propel your plans for the rest of the year?"
"I suppose you are right, Alice. That's always worked out well for us. We have been the 'top dog' in the market for so long we assume that we will get most of the attention," Bob explained.
"Maybe our success has made us too predictable? Reactionary instead of proactive? Maybe the market share results are the accumulation of many such instances of not seeing early what our competitors are doing? Is that possible, Bob?" Alice asked as she looked steadily at him.
"This discussion isn't why we were going to meet this afternoon, was it?" Bob asked.
"Actually, Bob, it was the perfect subject to illustrate how the competitive intelligence team can help you make better decisions and to eliminate unnecessary emergencies" Alice answered.
"Alice, once again, you have effectively made your point. May we try again to have the meeting that we planned? If I remember, you were going to help me settle on some key questions. Tomorrow at 8 AM?" Bob asked.
"8 AM it is," Alice said, "Sharp, this time." They grinned at each other.
There was much to do.