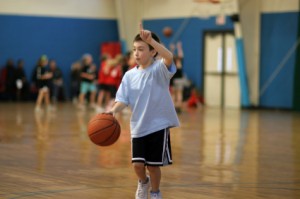 Competition is a constant.
My son competes in basketball. His team has many challenges. Perhaps the biggest challenge is that they are a new team (formed this year) competing against established teams that have played together for multiple seasons. Moreover, the other teams have "serious" coaches that teach sophisticated offenses and defenses. Those teams execute plays with coordination, skill and timing that give them decided advantages against less prepared teams.
Here is an interesting point. My son's team has talented athletes. In fact, they have enough talent to win any game (even against the best teams in the league). Talent alone, however, is not enough. They need to have better offensive and defensive plays. They need to make better adjustments during the game to react to what the other team is doing. They need to learn more from their opponents to make their team better.
Is business any different?
Companies are constantly competing in markets everywhere. Some of the companies are established players with all of the advantages derived from that position. Others are "new to the game." They have fewer obvious advantages and have to capitalize on disruptive strategies to change the game. No matter their current positions, both camps have to react to change to stay (or get) ahead.
Just as in sports, sometimes the difference in outcomes is not solely due to talent.
There are smart people everywhere. Most of my career has been in the corporate world surrounded by intelligent and resourceful people that created new high technology businesses. Lately, I have seen more of the drive and ingenuity of the small business owner. Are there many things more difficult (or more fun) than starting something from scratch? Being talented is important but it is not enough when it is not applied intelligently.
Competitive intelligence is a way to compete better
During halftime at my son's basketball games, he will stop by the stands to talk with me. We talk about how the first half went and what he needs to concentrate on during the second half. Usually, I have an idea for him to try. For instance, in one game, the defense was not covering the jump shots from the free throw line. Maybe he could fake a pass to his right, step forward to the free throw line and have an open shot. Indeed, that is what he did and he was open for a clear shot (missed it, though – more practice between games needed).
Businesses need "open shots" too.
It is not easy to find such conditions because the competitors are playing active defense to prevent openings. Here are three things to remember.
Systems are competing. When considering competition and what to do it, recognize that two (or more) systems are competing. Focusing on a constituent part may be easier but may also lead to less viable solutions. Analyze multiple "moving parts" of the systems. For example, consider not only the competing products but also the engines (i.e., intellectual property, R&D investment, alliances) behind the product development.
Every competitor has a weakness. We hold up certain companies as the epitome of success. Ten years ago, the list might have been Sun, Microsoft and Yahoo. Today's roster of high technology companies would include Google, Apple and Amazon. It will not always be that way. As the environment changes, many successful companies cannot sustain their advantages. New companies recognize weaknesses and capitalize better than the established companies do. The only question is "when?"
Every change is opportunity. And, of course, every change is a threat. Forward-looking companies are constantly seeking to understand change so that they can shape or adapt their strategies accordingly. Change is particularly threatening to "static" companies. These companies decide a strategy and completely focus on execution. No attention is given to competitors, market changes or anything else that might challenge their initial assumptions. Conversely, alert companies are constantly adjusting. Their great advantage is seeing and reacting first.
My son's team is getting better. All of the parents can see the players' efforts. We know that they are close to breaking through against the established teams. They are actively learning while improving their individual skills. Their teamwork is getting better at overcoming their well-prepared opponents. Perhaps this weekend will see our first win. After that, the sky is the limit!
How about you? Do you have competitive intelligence challenges in 2010? Are there things that you should do to get better against your competition?
I have created a short survey about competitive intelligence challenges to get a sense of what others are facing. Click here to take the survey. It will require less than five minutes of your time. Thanks!