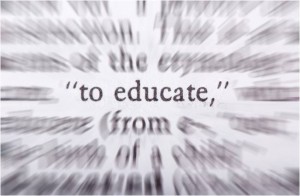 One of the laments of the competitive intelligence community is how others erroneously define competitive intelligence. Left alone, others view CI as everything from spying to something that is indistinguishable from <file in the blank> (e.g., market intelligence, business intelligence, marketing, just good thinking). It is no wonder that many of us encounter skepticism, ignorance and doubt when we talk about competitive intelligence to potential clients or customers.
I would be pretty happy if I could say that all of my problems were due to those that garble the definition of competitive intelligence.  If customers would just understand what I do better, then my business would boom, my clients would prosper and the long awaited vacation home in the Colorado mountains would be a reality!
Fairness compels me to admit, however, that poor definitions are only the beginning of the issues faced by me and, perhaps, by others that practice competitive intelligence.
Another significant problem has to do with marketing competitive intelligence. (I have previously written about "The Failure of Competitive Intelligence Marketing.") Undoubtedly, there are exceptions but my sense is that it is common for CI professionals to face difficulties in marketing their services. Why? One reason might be that previous successes are problematic to share. If I deliver outstanding insight to a client, it is reasonable for them to want exclusive access to that insight. Thus, I cannot ethically share this story to help me get my next client. Another reason might be that it is often hard to capture discrete, numerical benefits directly attributed to competitive intelligence. Testimonials help, of course, but the holy grail of benefiting a company's bottom line is often elusive.
Finally, there is the issue of increasing personal value over time. How does a competitive intelligence professional get better at his or her job? Admittedly, there is no substitute for numerous client engagements to support on-the-job learning. Still, the absence of a well-established competency framework (though some are in work) to guide or certify professional development in the industry is a clear community weakness. In absence of a framework that has a commercial meaning (i.e., customers value the framework and use it to make buying decisions), how does a CI professional manage their own skill development? There is no lack of opportunities but how do you decide what to do. And, after taking advantage of some of those opportunities, how do you translate the improved skills into increased value for customers?
These questions are a puzzle for me and are the subject of a short survey that I am doing in March. The survey has five questions. It will take about two minutes to complete.
Would you give me your responses? Click here to take the survey. I will post results on my website and blog by March 31st. Thank you.
Here are the survey questions.
How well do you think that your CI customers or clients understand the definition and value of competitive intelligence?
Which statement best describes your success in describing competitive intelligence to prospective customers or clients?
How well does your organization assemble and market competitive intelligence success stories?
Which of the following development steps do you regularly take to improve your competitive intelligence skills?
Which skills, if substantially improved, would have the greatest impact on your competitive intelligence success? I would like to be better at …