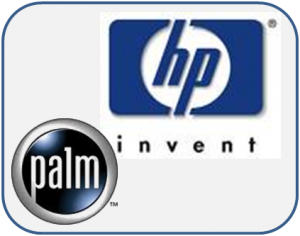 As they say in the Lion King, it is all about "the circle of life." Things begin with a new idea. A few of those ideas result in compelling products. For a small minority of those products, the right people come together to create a valuable proposition for customers. With customers in hand, the company grows and prospers. One day, competitors begin to envy the company's success. Meanwhile, the competitive environment gets tough. What will the company do? Can it adapt and continue to be successful. Some companies do and go on to bigger and better things. However, all too often, some "die." Swallowed up by another, stronger company that extracts what is valuable from the dying company.
So, we mourn the passing of Palm- subsumed into the HP technology behemoth. How did this happen? What are the implications for HP? How does it affect others? Competitive intelligence plays a role in answering such questions.
HP's Palm Plans May Leave Microsoft Out in the Cold
There are many reasons to acquire a company. It could be that the target company has many desirable customers, unique access to certain market segments or a valuable brand in a specific customer demographic. Who tracks such things about competitors or potential acquisitions? Apparently, HP does. (Asset Tracking, Four Corners Analysis, Intellectual Property Evaluations)
"We looked to acquire them for the WebOS" and Palm's portfolio of patents, Todd Bradley, the executive vice-president in charge of HP's personal systems group, told Bloomberg News the day the acquisition was announced. HP has said it wants to make Palm's WebOS, which has been praised for its intuitive user interface and ability to run several applications simultaneously, the basis for a new generation of smartphones and tablet computers that would compete with Apple's (AAPL) iPhone and iPad, as well as smartphones from Research In Motion (RIMM) and Nokia (NOK).
Suppose you were an HP partner, would you care about this acquisition? Microsoft and others should care. (M&A Analysis, Key Personnel Tracking, Executive Relationships)
HP's acquisition of Palm is the latest speed bump in the complicated relationship between Microsoft, the No. 1 PC software maker, and HP, the world's largest computer maker. HP has developed its own user interface technology for desktops and laptops that run Windows, in a bid to make computers easier for consumers to navigate. Now it's poised to pursue its own direction in the smartphone and tablet markets at a time when Microsoft is trying to gain share in the growing categories.
Why buy and maintain their own OS instead of using something like Android? HP-Palm buy FAQ
According to HP's Todd Bradley, Executive VP of the Personal Systems Group, HP believes that webOS will be the basis of several classes of mobile devices — smartphones, touch tablets and potentially netbooks all of which are generating big consumer demand. HP thinks it can offer a unique HP experience across all of them, tied into emerging cloud-based services.
Was this acquisition foreseeable? There are several reasons why this might have been forecasted.
Palm declining fortunes has been obvious for some time. Their market share has been eroding since the heyday of the Palm Treo. With a declining market share and the ascendency of Apple, Palm had very little space to operate. They had to do something. (Five Forces Analysis)
Palm's carrier relationships (very critical to market success in the US) were weak. The launch on Sprint of their latest smartphones was a sign of weakness. Even though Verizon eventually offered the Palm smartphones, it was too little too late. (Ecosystem Map)
Palm continued to innovate despite its poor financial performance. The WebOS product and multitouch display technology (fielded despite patent threats from Apple) are valuable. (Financial Analysis, Patent Portfolio Tracking)
Many key people at HP have Palm roots. Never underestimate the importance of relationships since deep relationships often lead to new business opportunities. (Relationships Map)
HP had a need. Despite a history of Microsoft-based phones, it does not have a very successful smartphone strategy. Consider how Android-based products (not just phones) are emerging, the sputtering Microsoft mobile products and it becomes apparent that HP either had to make a move to own its destiny or move lock-stock-and-barrel to Google's camp (i.e., Android). (Five Forces Analysis, Scenario Planning, Strategy Map)
What is next? Look for Dell to make a move. Since their acquisition of Perot Systems, Dell is starting to act more like HP though they do not yet have the scale or scope of products enjoyed by HP. Also, watch what HP does around an online store (a la iTunes). They risk marginalization by Apple, RIM and Google without a convincing applications strategy for consumers.
What do you think?