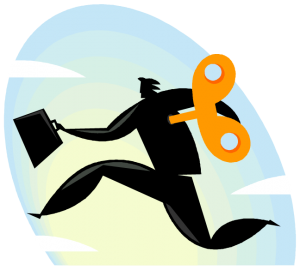 Alice heard Bob before she saw him. Talking rapidly on the phone and carrying a set of PowerPoint slides, Bob came bursting around the corner toward his office where Alice had been waiting patiently. With the barest nod of his head, he passed Alice and continued his phone conversation as he sat down at his desk. Something appeared to be up.
Alice was miffed. Bob was 15 minutes late to a meeting that he had asked for earlier in the day. Ostensibly they were going to discuss his upcoming meeting with his boss where Bob had to explain how to recover from various competitive attacks. Now that he had shown up, he was distracted by what appeared to be an emergency.
Alice had to admit that he seemed different from earlier that day. The tentativeness was gone and the energy that most associated with Bob was evident. She could understand why he was successful with his product line for so long. He was decisive, passionate and hard working. She waited from him to finish his call.
Bob finally hung up the phone and looked at her. "Come in, Alice," he said.
"Sounds like you had an emergency today, Bob," ventured Alice.
"You might say that," replied Bob. "Do you know about the conference coming up in a couple of weeks? Well, we had some plans to make a splash there by announcing a new product. Guess who just preempted up."
"I suppose it would be one of our competitors," Alice answered.
"Yes, and not just any competitor. It's those guys over at Advanced Products. They seem to delight in sticking it to us. This isn't the first time that they have pulled a stunt like this. Seems like they are determined to keep the press focus off of us," Bob said with a hint of anger.
Read the rest of this entry