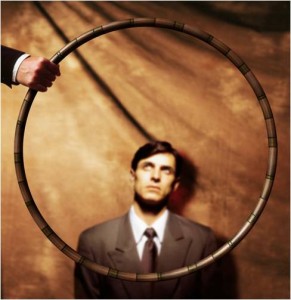 Enough already! Your work life is busy enough without someone telling you that you need to do still more things. Demands from your bosses, subordinates and customers inundate you. There is barely time to check your email, never mind respond to the flood of requests, meetings and other required activities. And then there is the business environment where survival alone seems to be a high goal. "Please" you want to say. No more. Not now. Not for me.
On the other hand, the vulnerabilities in business have never been clearer to you. Many good people that you know are out of work and suffering. You have dodged the bullet so far but you know that your company needs to do better. If the company does not win, your job may be the next to go. You remember a time, not so long ago, when ambition and possibilities motivated you more than fear. You enjoyed that time. It was a time of hard competition but winning, not just surviving, dominated your thinking.
It is time to think about winning again. It is time to take the measure of the competitors left standing and to attack. It is time to put together strategies that comprehend the market realities, accentuate your company's strengths and exploit your competitors' weaknesses.
How will you do all of that?
You need information. You need to know what has changed. You need to know how you can react and respond to the new market situations better than your competitors.
There are many sources of good information – your contacts, trade journals, news reports and websites. Everyone has access to such things. However, you will not find what you need to complete your strategic analysis, clarify the new vision or inspire and align your team there.
Those things come from a competitive view customized for your concerns and culture. The customized view builds models that you understand because you helped to build them. Your team understands the models because they challenged them in multiple debates and discussions. Finally, you own the outcomes because you processed the information and feel confident about the meanings.
It is possible that you have everything that you need to complete the process. Check yourself – do you have these things?
An updated summary of the market trends (e.g., technology, demographic, product)
A complete summary of key competitors and their strategies (e.g. M&A, financial, product development)
A current list of key unanswered competitor questions
A product line map showing competitive segments and competitor products
A gaps analysis process intended to identify, track and close key competitive gaps
A process to meaningfully involve you teams in competitive intelligence activities
A regular way to measure strategy effectiveness based on known and likely competitor moves
This list can include many more items. All of them address a key aspect of understanding the competitive environment so that better winning strategies can be developed and deployed.
Maybe it is time for you to engage with competitive intelligence in a more professional manner. Perhaps the environment has improved just enough to consider that "winning" is the best goal again for you and your company.
If so, then look for a competitive intelligence professional that can help you get the information, create the models, process the information and formulate effective winning strategies.
Competitive intelligence can help you now.